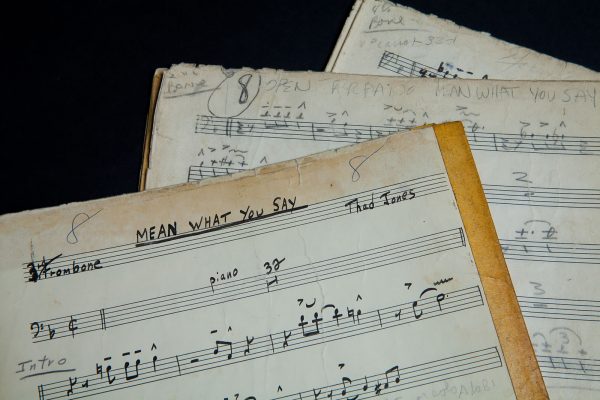 This effort began in 2001 when the leadership of the Vanguard Jazz Orchestra came to Professor David Demsey, desiring to make William Paterson University the repository for original Thad Jones scores and parts, which were deteriorating from use and were being replaced by digital copies. The University responded by creating the Thad Jones Archive, with an opening concert and ceremony on April 25, 2002 featuring the Vanguard Jazz Orchestra with the William Paterson University Jazz Orchestra. The materials were originally stored in Cheng Library.
The untimely July 2004 death of Professor James Williams, who had been Director of Jazz Studies since September 1999, led to the next donation. Professor Williams' family, led by his brothers Hannibal and Ralph Parks with James' nephew Tony Reedus, expressed their wish that William Paterson University care for his materials. The James Williams Archive was created in the fall of 2004; cataloguing work was at first done in Professor Williams' office, then moved to the new Archive.
The final, historic step in the creation of the Living Jazz Archives came with Clark and Gwen Terry's announcement in spring 2004 that they had chosen William Paterson University to be the site of his permanent archive; on December 8, 2004 the Clark Terry Archive was officially begun with a ceremony and concert. Cataloging and organization of those materials began the next year at their Haworth, NJ home by David Demsey with assistance from Cameron MacManus. The Terrys' relocation to Pine Bluff, Arkansas in the summer of 2006 brought the donation of a major amount of material, transferred to the campus in the summer of 2007. Simultaneously, President Arnold Speert and Provost Edward Weil donated space for the Living Jazz Archives on the third floor of College Hall.
Jazz alumnus James Terrile made a generous donation in the fall of 2007 that enabled the University to purchase audio and video equipment, exhibit cases and shelving to make the Archives space a reality. The Living Jazz Archives officially opened on April 24, 2008, with a concert by Clark Terry and the William Paterson University Jazz Orchestra, featuring a program of historic jazz arrangements from the Clark Terry Archive.